There's Something About Harry: Jim Butcher talks about the evolution of his character Harry Dresden       
New York Times best-selling novelist Jim Butcher hates telling people no.
That's why he's written a dozen different short stories for a dozen different anthologies featuring his famous creation Harry Dresden, the protagonist of The Dresden Files, a critically acclaimed series of urban fantasy novels. However, since many fans can't afford to buy twelve different anthologies, Jim Butcher has collected the short stories in the recently released Brief Cases (his second collection of short stories featuring Dresden, a hard-boiled wizard based in Chicago) in order to make it more cost-effective for the readers. At the same time, Butcher wants to make sure those who have spent their money on the anthologies get something of value out of Brief Cases, which also features a brand-new novella called Zoo Day.
"Harry has been doing all this private eye stuff and wizard stuff, but what he's learned in recent books is he's a dad. When he actually met his daughter, Maggie, he realized he couldn't not be there for his kid the way his parents weren't there for him: he grew up an orphan. Once he realized that, he's like, 'I gotta be a dad now. There's no way out of it,'" explained Butcher, 46, of Colorado. In Zoo Day, Dresden takes Maggie and his dog, Mouse, to the zoo. It's their first daddy-daughter outing. "We go through the whole story from Harry's perspective. Then we stop and go through it from Maggie's perspective, where we see all these other things that Harry didn't know were going on. Then we stop again and this time we see it through the perspective of Harry's dog, Mouse. Mouse is a magical dog. He's actually smarter than Harry. We get to see the story through Mouse's perspective and see who the real hero is around here," explained Butcher, laughing.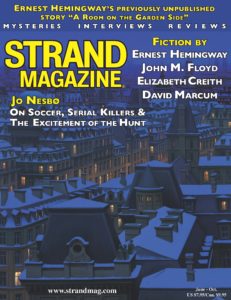 Subscribe and Get the Hemingway Issue
The youngest of three, Jim Butcher's interest in science fiction and fantasy was piqued at an early age when he was recovering from strep throat. His older sister got him J.R.R. Tolkien's Lord of the Rings series and Brian Daley's The Han Solo Adventures during his recovery. This jump-started his imagination.
"I found myself looking for stories that I wanted to read but couldn't find. At the end of the day, I became a writer because I wanted to read these stories and nobody else was writing them, so I wrote 'em myself," said Butcher. "I wanted more of that type of story. I thought to myself, if I want more, maybe a lot of other people want more. That was one of the reasons why I started writing urban fantasy."
In 1995, Butcher graduated from the University of Oklahoma at Norman with his undergraduate degree in English and creative writing. He also completed some graduate work in journalism at OU. According to Butcher, the writing program was taught by published authors. When he was there, Deborah Chester, who's written in the science fiction and romance genres, was his instructor. She eventually became his mentor. At OU, Butcher created Dresden. "That's one of those stories that helps me stay humble… (Chester had) been trying for a good two to three years to explain to me what I needed to do to become a professional writer. I wasn't listening to her because I had a bachelor's degree in English, after all, whereas she had merely published forty novels, so what did she know?" he said, tongue-in-cheek. Chester kept giving Butcher good advice, which he kept rejecting.
"One semester I decided I was gonna prove her wrong," said Butcher. "I figured the best way to do—I was about 25 and I was very convinced about how smart I was—just do everything she told me to do. I was gonna fill out all those little forms, fill out all those little worksheets, complete all the outlines, and then she was gonna see what cookie-cutter crap emerged from that process." Instead, he proved her right. Butcher wrote what would eventually become Storm Front, the first book of The Dresden Files. "When I turned it in, she read the first two chapters and said to me, 'You did it.' I said 'What?'" recalled Butcher. "'I don't know if this is the first thing you'll sell, but you will be able to sell this.' I was like 'Wow' because she didn't believe in a lot of positive feedback: she believed in getting you ready for the real world. Once she did that, she said to me, 'I want you to come in next week with an outline for the rest of (Storm Front).'" Instead, Butcher came in with an outline for a twenty-book series.
"I remember the look on her face—it was the same look Wile E. Coyote had when he was going off the cliff—because she told me it wasn't going to be possible to sell a twenty-book series as a new writer; it wouldn't happen," said Butcher. "But she didn't want to discourage me since I just got onboard. She was like, 'Yeah, if you want to sell a twenty-book series, that will be fine.' Because she told me it wouldn't be possible, I went out and did it. I did it a little bit at a time; they didn't want to buy twenty books right upfront. The audience liked this idea of a long-term building story." When creating Dresden, Butcher "chopped up" classic wizards Merlin and Gandalf from Lord of the Rings (LOTR) and private detectives like Dashiell Hammett's Sam Spade and Robert B. Parker's Spenser "and Frankensteined them together into Harry Dresden." Spider-Man also had an influence, too, according to the author (in 2006, Butcher wrote the Spider-Man novel The Darkest Hours).
"I realized wizards and private eyes do the exact same things, they perform the same role; they just have a different hat on," explained Butcher. "Whether they are plunging into the underworld of Chicago's criminal scene or plunging into the literal underworld like in LOTR, they're both people who go to dark places and are a threat, not necessarily because of what they can do, but mostly because of what they know." He continued: "Gandalf was a threat to Sauron in LOTR, not because he could do magic and blow things up, but because he was a guy who figured out, 'Oh, wait a minute. This one ring is the source of Sauron's power; we have to destroy it.' Private eyes do the same thing. They go out and find information to clear someone or protect someone or find justice for them. When I realized wizards and PIs were the same character, it became real easy."
Originally, Butcher planned to set The Dresden Files in Kansas City, but Chester advised against it, telling him he was "walking close to Laurell K. Hamilton's toes." Hamilton is the author of the New York Times best-selling Anita Blake: Vampire Hunter series. The titular protagonist is a necromancer and vampire hunter. The series blends hard-boiled detective fiction with elements of the supernatural—similar to Butcher's Dresden.
According to Butcher, there was a globe on Chester's shelf. He looked at the globe and decided there were four major American cities where he could set The Dresden Files. The first was Washington, D.C. However, he didn't want to set it there because the nation's capital is synonymous with politics. "And if you write politics, you lose a chunk of your audience, no matter what you do," said Butcher. "I didn't want to do that."
Next up was New York City. "I didn't want to set it in New York because all the editors live in New York," he said. "When you make a mistake, they just crucify you for it. That was intimidating to me, and I didn't want to do it." Then there was Los Angeles. "I didn't want to set it in L.A. because all the stories—TV and film—seem to be set there," he said. "L.A. is busy enough. And too much traffic." Finally, there was Chicago.
"It's a gangster town and he's a PI-themed wizard. I asked about Chicago and my teacher said, 'Yeah, whatever. Just not Missouri. Any other city is fine.' That turned out to be really, really fortunate once I started digging into the history and the folklore of Chicago. It's a very rich area. There're a lot of things that happen there. It was a lot of fun to read about the ghosts, the hauntings, the serial killers, the great tragedies—all that provides really fertile ground for good stories. It was an accident (setting it in Chicago). I can't even claim to be smart about it. At the same time, it was very fortunate for me. I seem to have done pretty well with stumbling into it, rolling with it, and improvising as I go ahead," explained Butcher. He shared his insights on what gives his character such staying power after eighteen years.
Photo by Karen Hacker with The Portrait Gallery, located in Independence, MO
"What really does it is he's kinda an everyday hero. He's your friendly neighborhood wizard. Although he gets into trouble on a constant basi—he has all these enemies—he's still this guy. Most of the readers would say, 'Yeah! I want him to come over to my barbecue—he's a nice guy.' That's what makes him identifiable," said Butcher. "He has a lot of everyday issues most people have to face. The thing I wanted to do to him as a wizard was constantly confound him with normal, everyday things. Maybe he's got access to phenomenal cosmic power, but he still has trouble paying his rent. His car's breaking down all the time and he needs to get it fixed." The audiobooks are narrated by actor James Marsters, best known as Spike on Buffy the Vampire Slayer and its spin-off, Angel. Butcher was beyond ecstatic about Marsters's involvement, calling it a "wild stroke of luck."
"When I was contacted by Audible who wanted to do an audiobook of my first novel, what I heard was, 'We wanna pay for your family's health insurance for the next six months.' I was like, 'Yeah, okay. That's a good deal. We can work something out,'" he said. "They called me a few days later to tell me, 'We want to get Spike from Buffy to read the novel for you.' Yeah, so awful, right?" Butcher admitted when he heard about Marsters, he broke out into the Snoopy Dance during that phone call, pulling a hamstring in the process. "I'm trying to sound cool and professional because after doing this for ten years, I'm finally getting somewhere," he said. "Marsters's fans love him reading these books so much, he continues to do them. He's one of the highest-paid actors in Hollywood; we can't afford what he's worth but he likes the books. In my fantasies, there's a Harry Dresden animated series and he's voicing Harry Dresden the whole way through. I can only wish that would happen—that would be amazing."
While Marsters will always be remembered as Spike, he's flattered when fans know him from The Dresden Files. "I love voiceover work. Frankly, a lot of tools I learned in theater I had to ditch when I came to Hollywood," said Marsters. "Theater is basically hanging words in the air—the proper color, the proper rhythm, the proper speed. The difference between night and day in theater is how the words are handled; the difference in something that is dangerous or something that is humorous—it all depends on how the words are hung in the air. If you do that in film, it looks so fake and so actor-ed; it's such a lie: the camera doesn't buy that stuff in a heartbeat… I spent most of my professional career developing tools for stage. You miss using them, so when you're doing voiceover work, you really are hanging words in the air. So I get to pull out those old tools and start using them again."
Butcher spoke about The Dresden Files TV series that aired for one season on the SyFy channel in 2007. In it, Paul Blackthorne (Arrow) played Dresden. "I didn't think Blackthorne looked like Dresden the way he does in my head at all," said Butcher. "I think he got the heart of the character, which is important. In fact, it's way more important than anything else." The TV series strayed from the books, as most adaptations do. "I was pleased with the series. Originally, they intended for it to be a serial but changed their minds and made it episodic two weeks before they started shooting. That really cut into the meat of the story as they were going," said Butcher. "At the end of the day, it was on TV on Friday nights on the SyFy channel—that's my people. I'm also one of those people who's watching TV on Friday night. My peeps are nerds. I'm a nerd myself. If nothing else, it was fabulous advertising for my books because I must've gotten seven or eight years' worth of audience growth over the course of that spring when they aired it." Currently, Jim Butcher's putting the finishing touches on Peace Talks, the sixteenth book in the series. Peace Talks is slated for an early 2019 release. "I'm just a hermit who writes down the conversations with my imaginary friends and somehow conned people into giving him money for it," said Butcher. "I'm very fortunate to be where I am in my job. I'm very fortunate I'm in a place to reach out to help others. I've got the freedom to be able to do these things now. That's nice."