TOP TEN VANCOUVER CRIME NOVELS
Vancouver is a colonial outpost built on the unceded territories of three different First Nations. The city is home to one of the largest and most diverse immigrant populations in North America. As such, we're a city without a fixed identity, which, for a fiction writer, is a blessing.
In my novel Invisible Dead, I try to offer a snapshot of Vancouver as I see it, filtered through the story of a young PI's search for a missing woman.
What follows is less a "best of" than a collection of books that reflect some essential aspects of both Vancouver and crime fiction.
Needles by William Deverell was the first crime novel set in Vancouver that, to me, captured something of the essence of the city—its diversity, its beauty, and the complex social relationships between those in power and those without. A star defense lawyer is enlisted to prosecute the murder trial of a heroin smuggler. Unbeknownst to his colleagues, he is a heroin addict himself. Needles examines drug culture and the nature of addiction, and the book still feels relevant.
In a lot of ways, the Mister Jinnah series by Donald J. Hauka is ahead of its time. There aren't a lot of Indo-Canadian detectives in crime fiction, and the brash, neurotic journalist Hakeem Jinnah stands out for his oversized personality and willingness to bend the rules. The novels offer an entertaining glimpse into newsroom culture and how journalists can wind up entangled with their subjects. Mister Jinnah: Securities is the first novel in the series; Hauka's latest, Pizza 911, is a good place to start.
The Willows and Parker series by Laurence Gough has fallen below the radar in recent years, but it's fondly remembered by many readers. The Goldfish Bowl introduced veteran Vancouver detective and family man Jack Willows, pairing him with talented rookie Claire Parker to hunt down an elusive sniper. The central attraction of the series is the evolving relationship between the two; by Cloud of Suspects, the pair, now married, have to balance domestic matters with police work.
Dead Girls by Nancy Lee is a collection of stories unified by themes of girlhood, love, addiction, and the relationship between cities and their surrounding areas. Vancouver figures as both a hopeful metropolis where small-town girls can find fun and companionship, and a frightening netherworld full of unseen perils. Dead Girls was one of the first works to tackle the city's troubling history surrounding missing and murdered women.
Blood Sports by Eden Robinson is a book about the lasting effects of violence. Tom, Jeremy, and Paulie are a trio with both family and criminal ties, struggling with poverty and addiction in East Vancouver. When rumor gets out that Tom might be a police informant, he is pursued by Jeremy, a psychopathic drug dealer who happens to be his cousin. Robinson, from the Haisla First Nation, has the same gifts for marrying terrifying suspense with black humor that Stephen King does.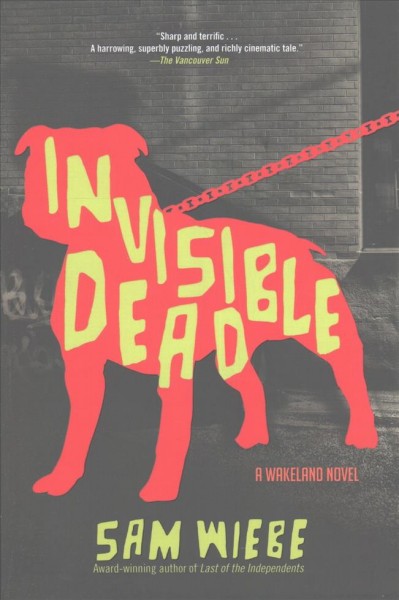 Ride the Lightning by Dietrich Kalteis is the story of Taser-wielding bounty hunter Karl Morgan, who moves from Washington to West Vancouver after an altercation with vengeful criminal Miro Knotts. Now working as a process server, Morgan runs afoul of a gang that has ties to Miro. The novel is fully in the tradition of Elmore Leonard, but what elevates Ride the Lightning is its superbly drawn cast of supporting characters.
Almost Criminal by E.R. Brown is a coming-of-age novel set in the world of boutique pot horticulture. A teenage barista with a methodical nature finds himself tapped to operate a series of high-end grow-ops for a dealer who's gotten in over his head with a biker gang. Like Breaking Bad or Fargo, the novel's strength comes from the ways ordinary suburban life butts up against a criminal underworld it can't ignore. Brown's storytelling is skillful and has literary heft.
The Nicole Charles series by Linda Richards includes two books so far: If It Bleeds and When Blood Lies. Amateur sleuth Nicole Charles is an ambitious rookie reporter stuck on the gossip column for a Vancouver newspaper. Covering high society inadvertently throws her into the midst of the biggest story of her career, testing her mettle as both a journalist and a detective. Richards is a master of voice and style, and the Charles books are breathlessly paced, packed with thrills and puzzles.
Anatomy of a Girl Gang by Ashley Little follows The Black Roses, five damaged young women from different backgrounds who find themselves mixed up in drugs, prostitution, graffiti, and robbery. While Little offers unflinching depictions of violence and gang life, she humanizes each member of the Roses, making them distinct voices linked by anger, pain, and hope.
Eyes Like Mine by Sheena Kamal is a thriller that follows Nora Watts, a down-on-her-luck legal assistant who gave up her daughter for adoption years ago. When the adoptive parents tell her that her daughter has disappeared, Nora can't help but involve herself in the case. Kamal's strong-willed, funny, ass-kicking protagonist is the book's greatest asset. Fans of thrillers will devour this, but there are also some great subtle character moments.